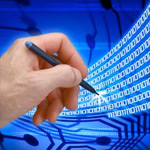 This course examines the use of online technologies as research tools. Since the introoduction of web 2.0, researchers have been enabled with new methods, techniques and tools, which allow for more effective procedures than traditional research methods have allowed.
The course studies human interaction with modern technologies such as the internet, mobile devices, gaming platforms and other forms of electronic media which have abilities to alter human behaviour.
The course is 20 weeks long and leads to an Accredited Special Purposes Award. This award is equivalent to 10 ECTS* of a level 9 award.
Course Assessment is via 2 assignments which are completed during the year.
More Information about IADT
http://www.postgradcourses.ie/iadt-institute-of-art-design-and-technology/
*ECTS – European Credit Transfer and Accumulation System (ECTS) is a standard for comparing the study attainment and performance of students of higher education across the European Union.
Credits may be accumulated with a view to obtaining qualifications, as decided by the degree-awarding institution. If students have achieved learning outcomes in other learning contexts or timeframes (formal, non-formal or informal), the associated credits may be awarded after successful assessment, validation or recognition of these learning outcomes.