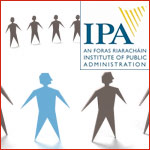 The postgraduate diploma in Public Management from the Institute of Public Management is a one year part time course which is completed via blended learning. This blending learning consists of distance education in the students own surroundings, supported by weekend seminars on the IPA premises.
The postgrad diploma can be completed as a stand-alone qualification (NFQ level 9), it can also be used as the first year of the masters programme.
Subjects studied on this course include the following; Economics, Finance, Human Resources Management, Managing Service Delivery, Research Methods, Organisation and Strategy.
The postgraduate diploma is divided into 2 semesters with the MA divided into 4 semesters. Assessment is completed via assignments and final examinations.
For more information on this and other courses run by the IPA, view the links below or send an enquiry to the IPA to receive information by email..
View Courses run by Institute of Public Administration (IPA) on Fidacourse.ie at – www.findacourse.ie/institute-public-administration-cg403.html
or