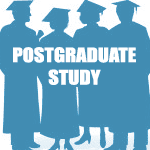 A postgraduate course is a qualification after your undergraduate degree, like a masters or a diploma. There are usually two types:
Research-based programmes normally involving two years for Master Degrees and four years for Doctoral Degrees/Structured PhDs.
Taught programmes – Postgraduate Diploma, Higher Diploma, and Masters' level.
Before embarking on your application for a postgraduate course; it is worth reflecting on why you want to undertake postgraduate study and to answer the following questions: How does this qualification add to your primary degree?
If it is not related to your primary degree – does it genuinely suit your personality, interests and abilities?
What is the employment record of graduates of this course?
What funding is available to you?
Why do students undertake a postgraduate course? The majority of postgraduate applicants want to develop a stronger academic and vocational profile, in order to distinguish themselves from other graduates. In NUIG, 96% of their graduates from postgraduate courses are employed or in further study within six months of graduating.  The figure is similar in other HEIs. It is often the case that many employers give preference to graduate students who have a postgraduate qualification. Some postgraduate qualifications are also essential for certain careers, like teaching, accountancy or social work (Trinity College is the only university that offers an honours degree programme to become a social worker. In every other HEI it is a postgraduate course).
Apart from improving employability; there are a number of graduates that realise they haven't reached their full potential in their undergraduate studies. Others see how futile their graduate degree is and enter a postgraduate programme to convert to a new subject area. That is one of the primary advantages that a postgraduate course can offer a graduate; the chance to change career path. As a postgraduate student, you are older and wiser; sometimes our strengths, interests and aspirations become more apparent after our primary degree. Yes, your primary degree might be impractical in terms of job prospects; but remember, it is your passport into numerous postgraduate courses.
In Ireland, an increasingly competitive job market and lack of employment prospects in certain sectors in Ireland, has forced many students to continue with lifelong learning and pursue a postgraduate course in their initial area of study or change career direction with a conversion course. On graduation from a conversion courses, you be will able to offer potential employers experience and skills from two distinct and separate academic areas. Typically, conversion courses are one-year taught postgraduate courses and can be found in most subject areas, with a very high concentration in business, arts and computing.
In terms of entry requirement; these will vary according to the course and college you choose. It's important to check the specific entry requirements which you can find on colleges' websites. The minimum requirement is a degree and although a pass degree will be considered in some cases, the more competitive courses will require an honours degree of 2:1. Some courses will require that you have certain qualifications like maths or a science subject for some engineering courses, for example. However a great many conversion courses are open to graduates from any discipline, and this is their big attraction.
IT is now one of the easiest fields to convert to, and given the shortage of qualified graduates in this area, IT postgraduate courses are becoming extremely popular. Also, given the predicted skills shortage in the area of Cloud Computing; if you are an IT graduate, postgraduate courses like the Master of Science in Cloud Computing Research Programme in NUIG or the Masters programme in Cloud Computing in Cork Institute of Technology are ideal for you. Identified by the Government, Forfás and the IDA as one of the best potential high-value growth areas for Ireland, and a vehicle for future jobs, cloud computing is set to provide a new generation of infrastructure, services and solutions for businesses.
Another example of a popular postgraduate course is the PGDE. In Ireland, you need a postgraduate diploma in education (PGDE) to qualify for second-level teaching, or the eighteen-month graduate diploma in education for primary level.  The PGDE is a one year-full-time programmes and it is necessary to complete to become a teacher as this is the teaching course recognised by the teaching council in Ireland (without a teaching council number, you will not be able to teach in Ireland). A PDGE can give meaning to that abstract Arts Degree.
Entry to medicine is now possible via a postgraduate course. The Graduate Entry Medical School at the University of Limerick and The Royal College of Surgeons in Dublin, both offer a four-year medical degree programme to graduates of any discipline. While not strictly-speaking conversion degrees these programmes are notable because, unusually, they do not require their students to have studied medicine at undergraduate level. These courses are ideal for those who did not achieve the leaving certificate points required to do medicine. Candidates must hold a minimum 2.1 (second class honours, grade one) result in their first honours bachelor degree (NFQ Level 8). For candidates who meet this requirement, GAMSAT (Graduate Australian Medical Schools Admissions Test) will then be used as the sole instrument to select students for the programme.
Postgraduate programmes are demanding and fast-paced. Many graduates may choose to take a year out to travel or to gain some work experience before embarking on further study. This can be hugely beneficial and also gives you the opportunity to gain some related work experience, and even make some money to help fund the course fees. If you are  not in a position to return to college full time; most colleges like NUIG Galway, Saint Angelas and Dundalk institute of Technology offer a number of postgraduate courses on a part-time basis.
The Department of Nursing and Health Studies in Sligo is an example of a department that has been actively involved in Postgraduate nurse education for the past decade and have designed postgraduate programmes that are primarily delivered in a blended learning format which allows students to study at a time and pace suitable to them. The programmes developed and delivered by the department pay due cognisance to the needs of the ever changing health service and those of prospective students for professional development purposes. These postgraduate programmes are ideal to differentiate you professionally in terms of securing employment in competitive times and they are also ideal if you wish to specialise in certain areas.
• The Nursing and Health Studies Department offer the following programmes: Master of Health Sciences – Taught
• Master of Health Sciences – Research / Specialist Nursing
• Postgraduate Diploma in Health Sciences (Professional Studies / Nursing Studies)
• Postgraduate Diploma in Nursing (Community Mental Health)
• Postgraduate Diploma in Nursing (Public Health)
• Stand Alone Professional Development Modules
The Department delivers a number of stand-alone modules which address issues of interest to all health care professionals. They run over one semester. Credits attained can be accumulated over time and put towards a postgraduate qualification.
In Dundalk Institute of Technology new directions are emerging in postgraduate studies with an increasing number of taught and research-based postgraduate programmes now available.
Their taught Masters degrees and graduate Diplomas are typically full-time over one year, with opportunities in some instances to take a programme over two years on a part-time basis. They offer postgraduate programmes from their School of Business and Humanities School of Informatics, Creative Arts, School of Health and Science and their School of Engineering.
These are just some of the colleges who are adapting and designing postgraduate programmes to suit the changing needs of learners and to ensure graduates will have qualifications that are relevant to the current economy, along with supporting their professional development.
The key to employability and success in a recessionary economy is both education and acquiring skills deemed relevant and in short supply in the current job market. If you are an unemployed graduate, a postgraduate course, might give you the necessary additional qualification to put you back on the 'employed map'. Applications to most postgraduate programmes are made online via the Postgraduate Applications Centre (www.pac.ie).
To view Postgraduate Courses on Findacourse.ie, View http://www.findacourse.ie/postgraduate-courses-ireland.html